Chances are a large chunk of your wedding budget will be allocated to your photographer – and with good reason! But after spending so much money on documenting your day and immortalising the special memories, it seems a shame to confine your wedding photos to a photo album, only flicked through on anniversaries.
To make the most of your wedding photos – both the professional pictures, and the candid ones snapped by your guests – we've come up with some unique – and classic- ideas for what to do with your wedding photos. From keyrings to candles, we have picked out some of the prettiest ideas for making the most of your most treasured wedding photos.
Create a Wedding Photo Album
Personalised album – StoriUK, £32.99
The traditional place to house your wedding photos is a photo album. It has definitely stood the test of time. As we said, it's perfect for flicking through on special occasions, and keeping your wedding pictures in pristine condition. Albums are no longer boring plain leather books, you can choose bespoke colours, personalised covers and extra details that make the cover of your wedding photo album as beautiful as your pictures.
BUY IT NOW: StoriUK, £32.99
READ MORE: 15 of the Dreamiest Wedding Photo Albums
Find Beautiful Photo Frames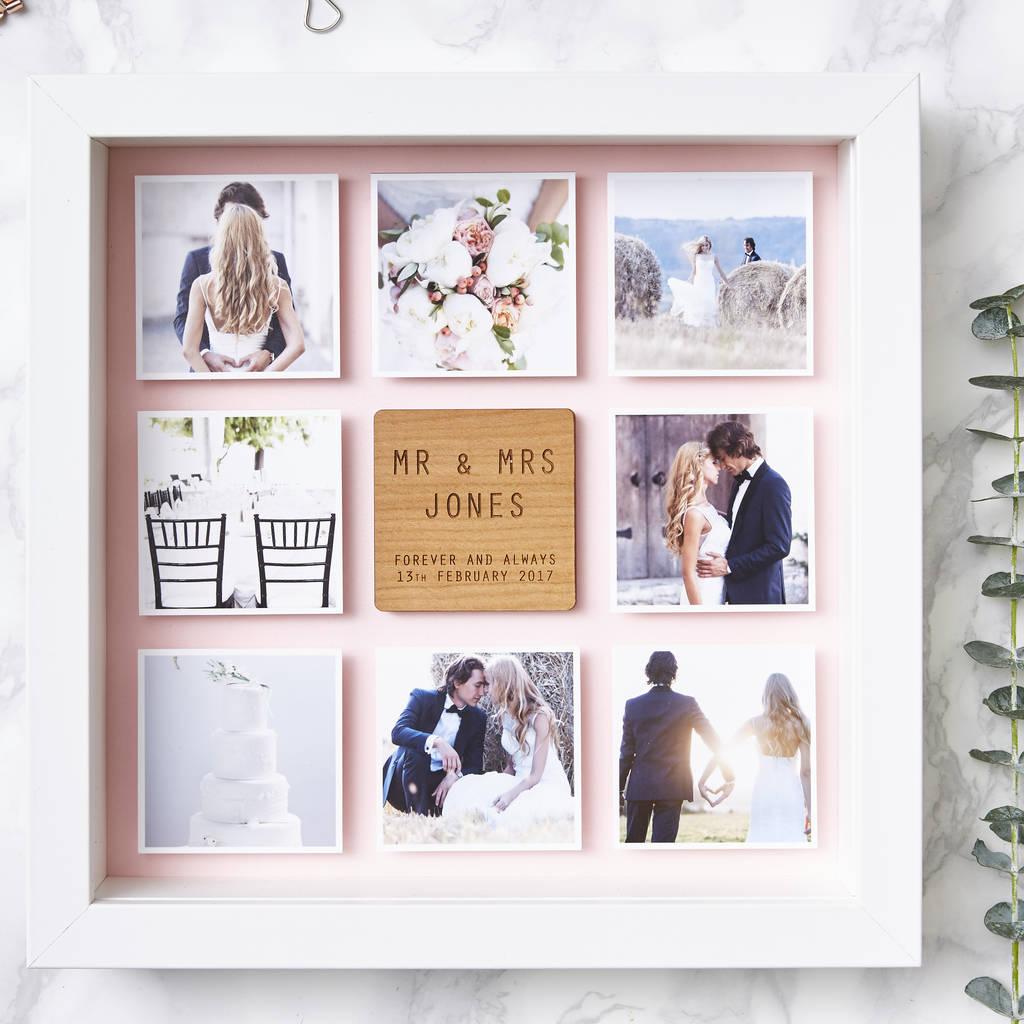 Personalised frame – Sophia Victoria Joy, £52
Framing your wedding photos isn't ground-breaking either, we know, but it's a lovely way to have memories of your day dotted about your home. Frame your favourite pictures for your living room or bedroom for daily reminders of the happiest day of your life. Any guests are sure to coo over them too, when they come round. 
For a wedding photo frame with a difference we love this collection of pictures on a wooden photo frame from Sophia Victoria Joy. The frame made of wood also means it would be the perfect gift idea for a fifth wedding anniversary gift – where the traditional present is wood.
BUY IT NOW: Sophia Victoria Joy, £52
Send Photo Thank You Cards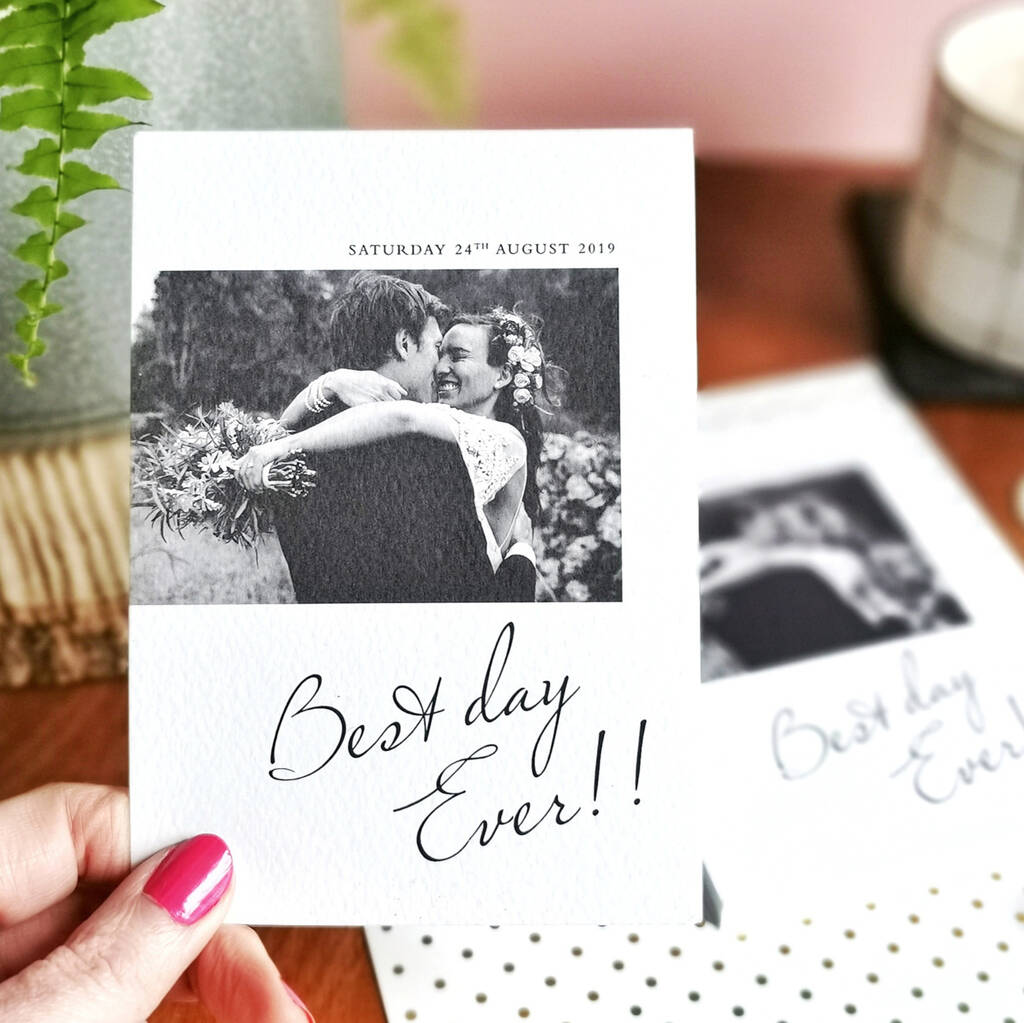 Wedding thank you card – Ditsy Chic, £1.50
A wedding thank you card with a photo from your day on the front is a lovely way to let your guests know how much their presence (and presents!) meant to you, and a great use of your wedding photos. You can either get these printed professionally, or if you're a DIY pro post-wedding, you could buy blank card and stick photos from the day onto the card. If you've got bundles of time on your hands (maybe the time you used to fill with wed-min!) these could be personalised to each guest ie. A photo of you with them on your wedding day, rather than a photo of you and your partner.
BUY IT NOW: Ditsy Chic, £1.50
Create Digital Albums to Share With Your Guests
Sharing photos online is part of our everyday lives, so it makes sense to share a selection of your wedding photos on Facebook or Instagram – it means people who couldn't make it can get a glimpse of your day, and we guarantee the congratulations and compliments will roll in in the comments section!
Opportunities to post your wedding photos online will come consistently throughout the year too; mark your anniversary by posting one of your favourite couple portraits, honour your bestie on her birthday with photos of the two of you getting ready on your wedding morning, and share photos of your mum in her gladrags on mother's day – the possibilities really are endless.
Order a Personalised Photo Cushion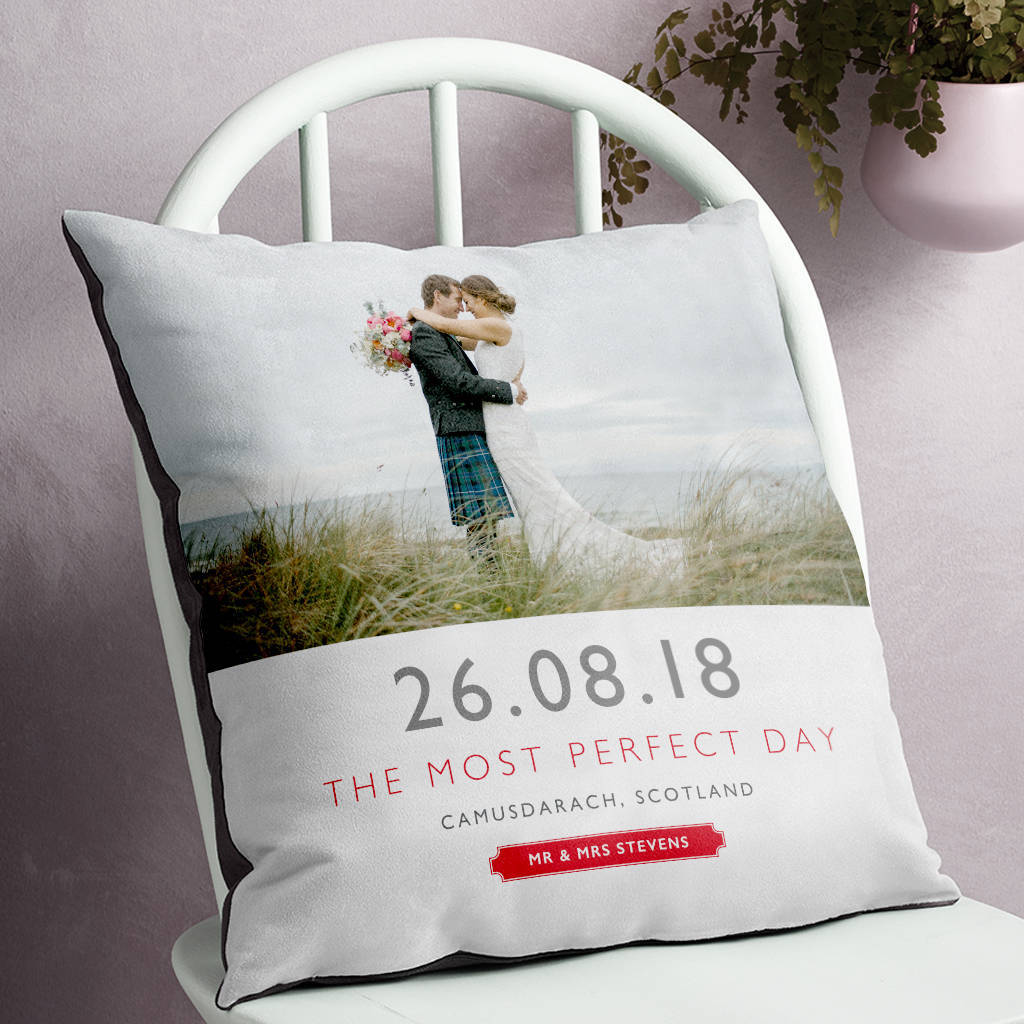 Wedding photo cushion – The Drifting Bear Company, £39
For a unique way to display your wedding photos, a personalised cushion is a cute idea. This cushion from The Drifting Bear is available in two different sizes. We think it would look beautiful on your bed or taking pride of place on a feature chair.
BUY IT NOW: The Drifting Bear Company, £39
Make a Wedding Photo Calendar
Personalised calendars are a fun way to use 12 of your favourite wedding photos. Each month gives you the opportunity to enjoy a different wedding photo. It's a way to display less formal wedding photos that you don't want framed in your house long term, but still want to see more often than just in your album.
Order a Unique Wedding Photo Puzzle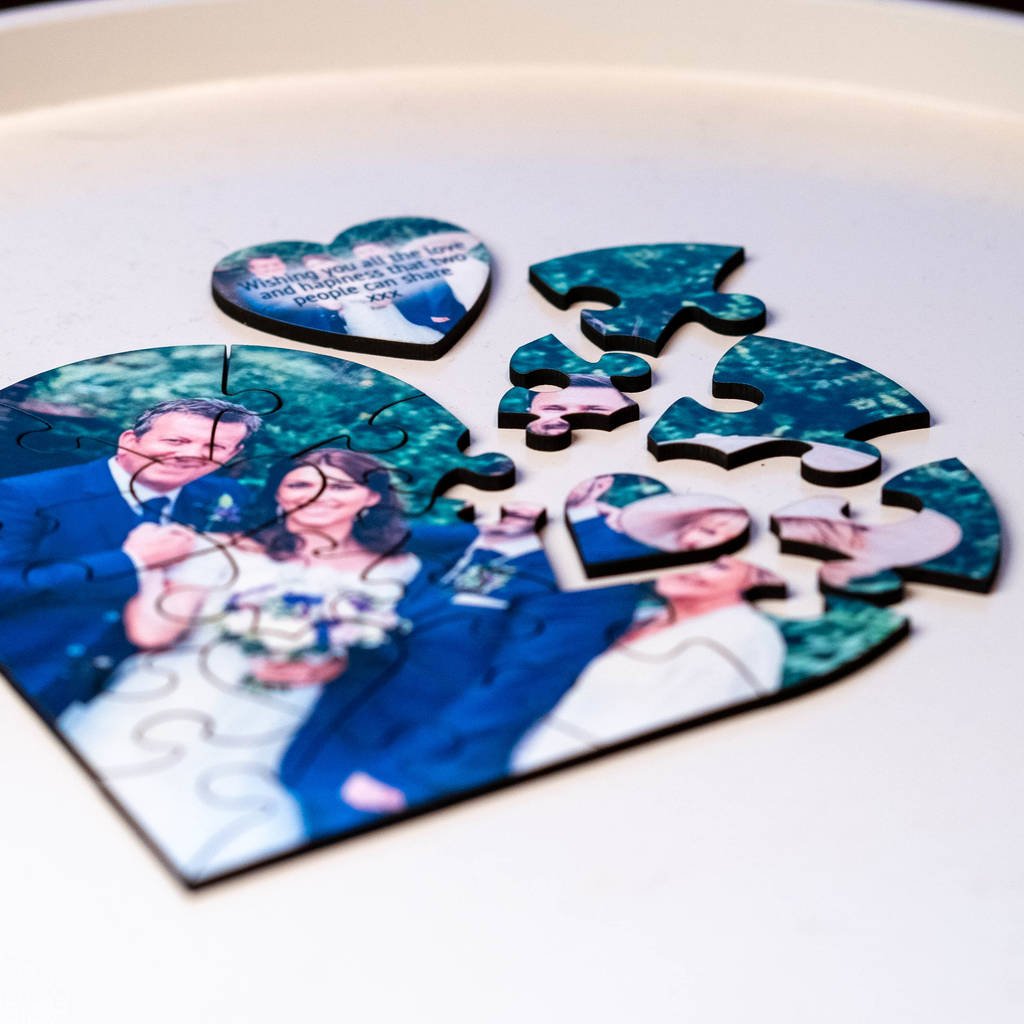 Wedding puzzle – Meeny Miney Mo, £15
Puzzles are a perfect rainy day activity. We guarantee you'll enjoy piecing together one of your wedding photos (far more than a photo of a Welsh castle or a seaside scene!). They also make a great gift for saying thank you to those who were part of the big day.
BUY IT NOW: Meeny Miney Mo, £15
Make a Wedding Photo Box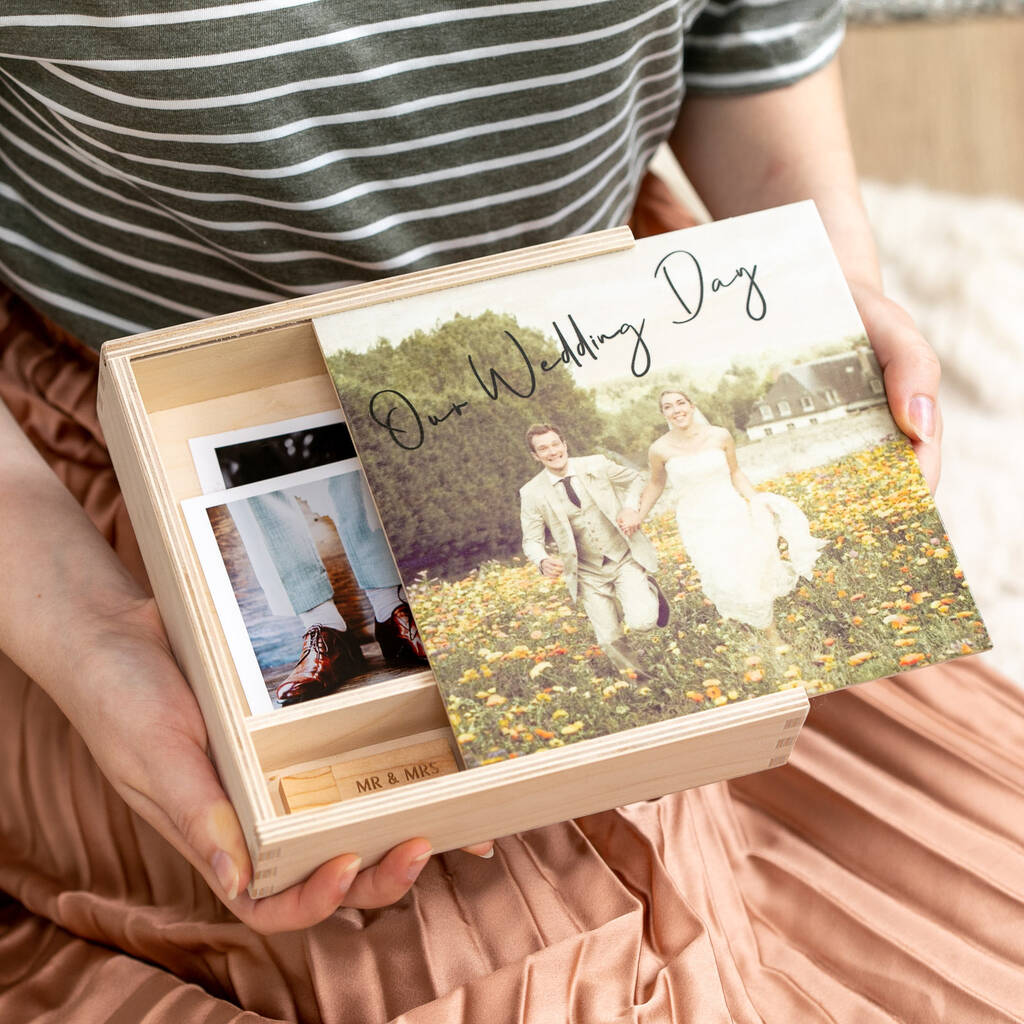 Wedding photo box – Clouds and Currents, £40
Rather than an album on your coffee table, this wooden keepsake box is stunning. It's bound to be more enticing to your house guests and they will take a browse through your wedding photos. This pretty wooden box from Clouds and Currents is simply stunning and is a home for both your printed wedding photos and a USB of all your photographs in high resolution.
BUY IT NOW: Clouds and Currents, £40
For more wedding photo ideas don't miss our round up of the essential pictures you need in your wedding album.