Explore our guide to wedding dress photography for some of the stunning and artistic ways you can capture photos of your wedding dress.
Your wedding gown is going to be so much more than a pretty dress – it's an item of clothing that you will forever hold sentimental attachment to. So whether you keep your wedding dress beautifully preserved in a box, have it made into a special keepsake or pop it straight on eBay after the big day (hey, you've got to fund the honeymoon somehow!), the warm and fuzzy feelings you have about your bridal gown are likely to stay with you forever.
You don't need to hang onto that special piece of clothing to be able to treasure those memories – that is what your photographer is for. Getting some treasured snaps of your bridal gown is the perfect way to remember every detail – while still being able to repurpose your dress in whatever way you wish.
If you are needing some inspiration on how to beautifully capture your gown, take a look at some of our absolute favourite ways couples have snapped their bridal gowns for the wedding albums.
In the bridal suite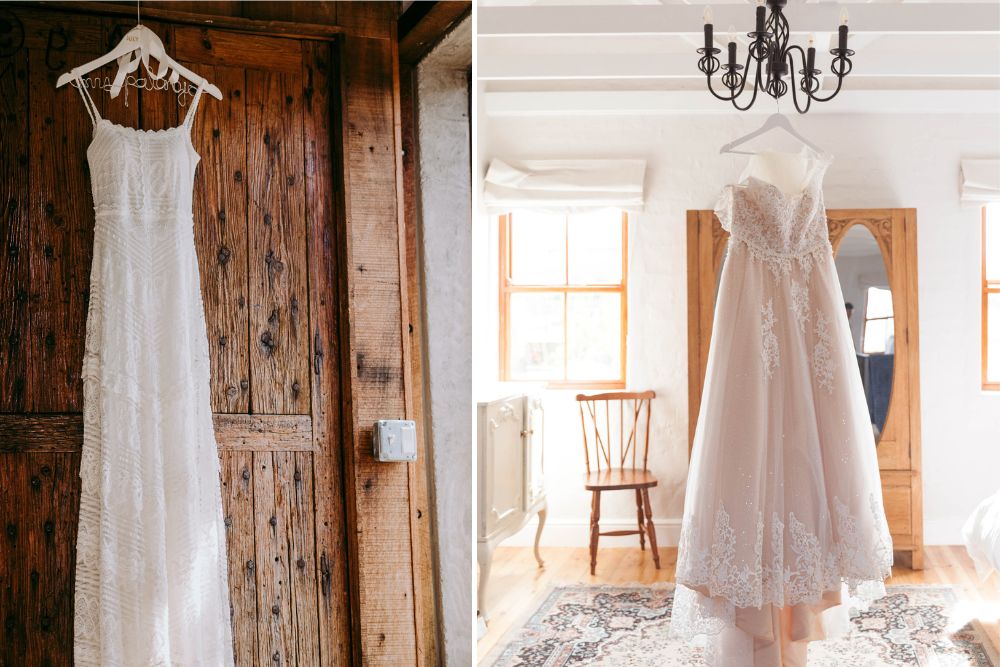 Your bridal suite is a gorgeous space – that you likely spent a decent amount of money on – so make the most of every second and have some stunning shots of your dress hanging in this special space. It could be against a decorative mirror, at the window, above the bed or anywhere else that feels pretty with plenty of light. It also gives you a bit of space from the photographer while you are in the early stages of getting ready.
Outside at your venue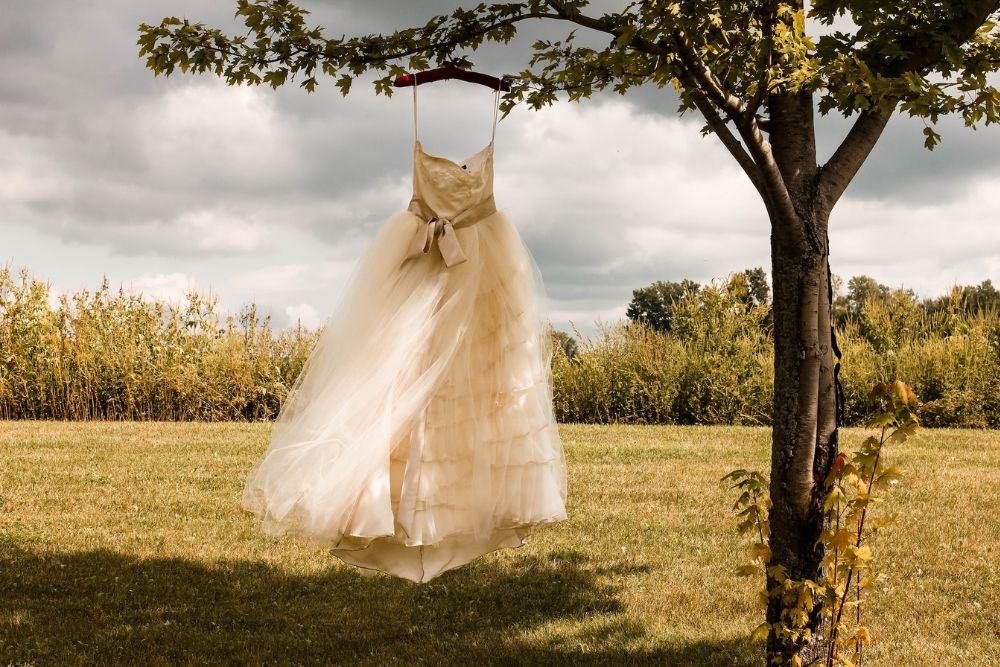 If your wedding venue has some gorgeous grounds then send your photographer off with your gown to get some stunning snaps. Your day is going to be filled with people so it's a lovely way of getting a few quiet snaps of the scenery before the happy chaos begins. It also gives your photographer any extra chance to scope out the location before your guests arrive.
On your bespoke hanger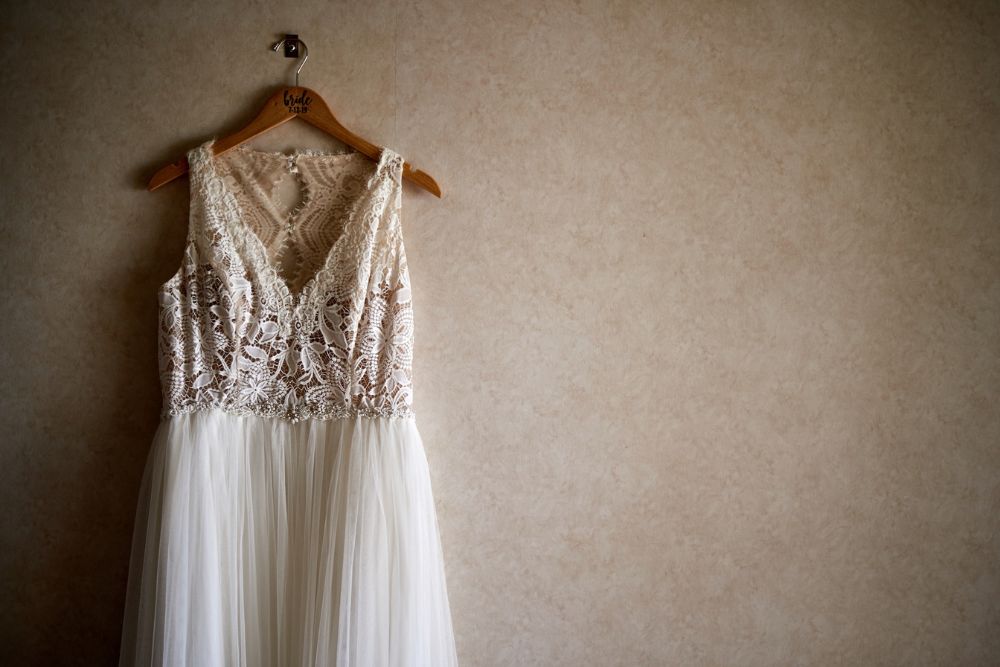 Did you spend hours finding the perfect bridal hanger for your dress? If this sounds like you then don't forget to make the most of it! After your dress has been steamed, hang it up on its bespoke hanger, it's one of those little details that you spend time, love and money on so don't miss your chance to get a beautiful shot.
With the bridesmaid dresses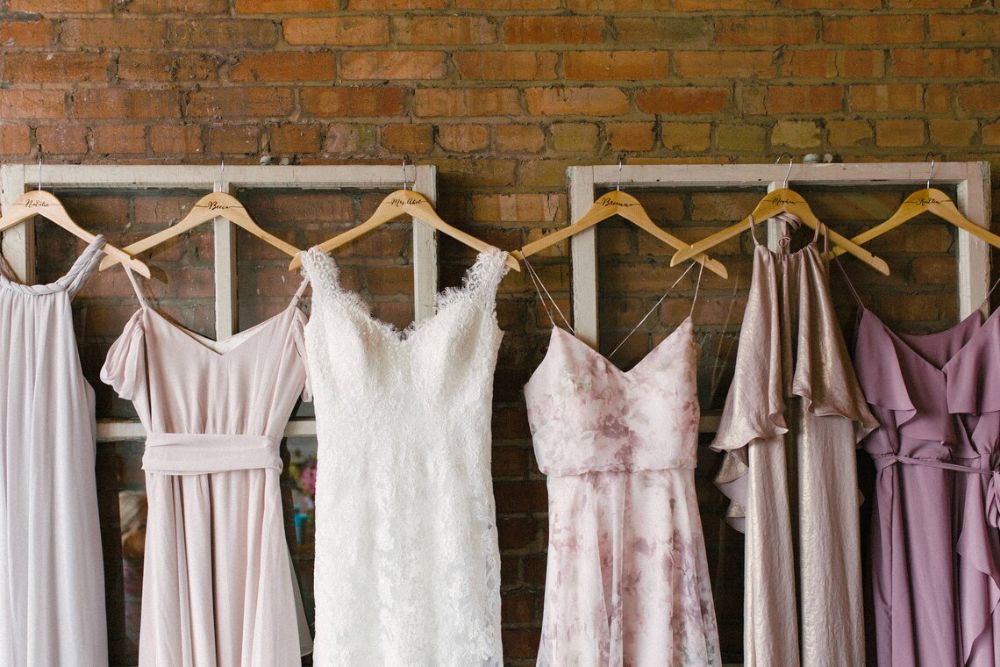 You've asked your best gal pals to all be there with you as you walk down the aisle so we love the idea of getting a shot on all your dresses together. We have also seriously fallen in love with these bridal hangers from ZCreateDesign on Etsy!
As you are just about to put the dress on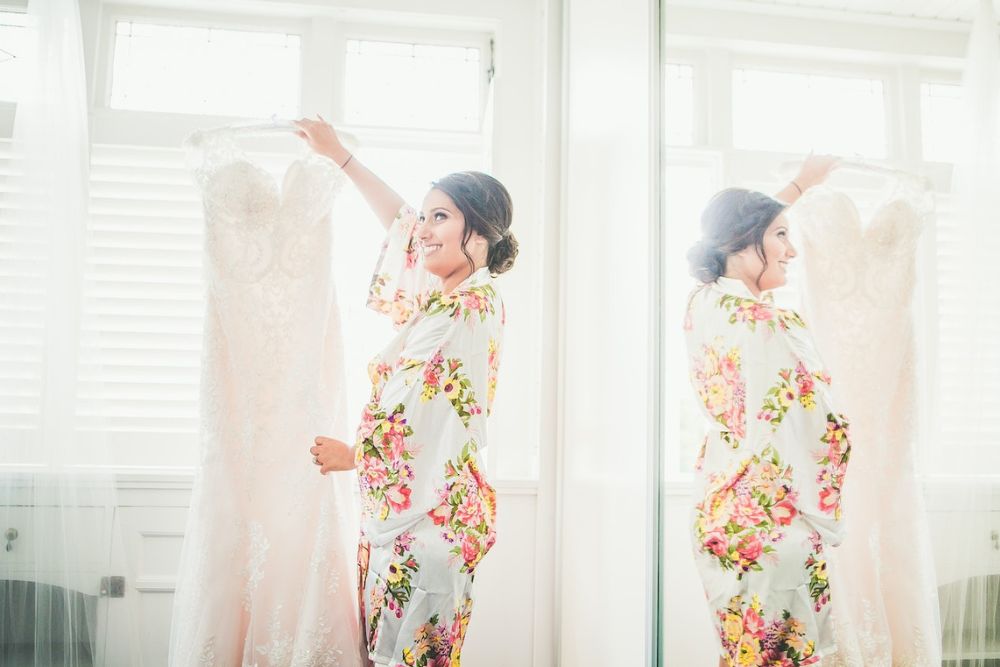 Your hair is done, your makeup is perfect and you're wearing your carefully chosen bride robe – so make sure to get a picture of you with your dress before you put it on. It's such a lovely moment that you can capture solo or with your maid of honour or mum.
In the dress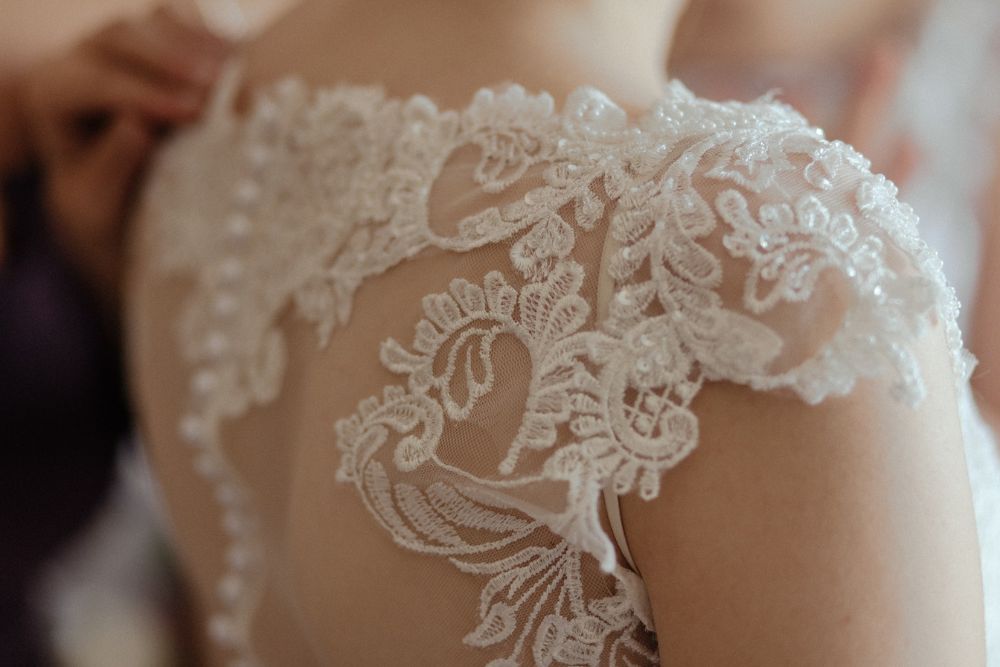 You will end up with so many photos wearing your wedding dress but getting some close ups of the finer details will be so much easier to do before your ceremony. Once you have your dress on, let your photographer take a few moments and capture all the finer details. From the intricacy of the lace to your jewellery and your shoes. It's a quick stand-still moment where you can take it all in and also end up with pictures you will treasure.
These are just a few of our favourite ideas for wedding dress photography. If you want to see even more creative ideas from real brides then start browsing our real wedding pages – packed full of inspiration and happy couples.